PASSION Female Enhancement Capsules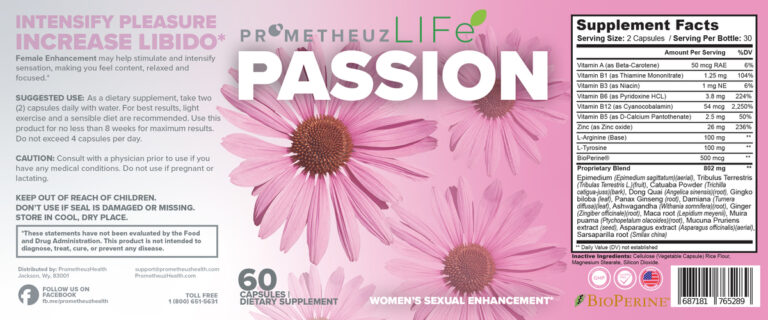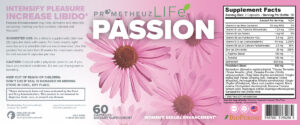 Prometheuz Health's Passion has been designed to make you feel relaxed and content by providing you with the right nutrients. Our capsules not only help with immunity, but also supports and intensifies female pleasure and sensation and also increasing sexual desire.
Description:
Passion, our female enhancement capsules hold many bountiful benefits and provide the body with the right vitamins and compounds. Our proprietary blend has been thoughtfully created to help make you feel at one with yourself. By combining natural herbs, plants and fruit with different sexual properties, our Passion capsules will increase sexual desire and sensation along with supporting energy levels and sexual endurance.
Ingredient Benefits:
Vitamin A, benefits the human body by ensuring proper function for the heart, kidneys, lungs and other organs. It also strengthens the immune system.
Vitamin B Complex is composed of eight B vitamins that promote normal brain function, energy levels and cell metabolism and growth.
Zinc, a nutrient in the body, helps strengthen the immune system, accelerates wound healing, may reduce the risk of age-related diseases and helps decrease inflammation.
L-Arginine, a neurotransmitter, helps blood vessels relax and improves blood circulation.
L-Tyrosine is an amino acid that produces noradrenaline and dopamine. It is known to reduce stress, improve alertness, attention, focus and pleasure.
BioPerine, a trademark name for Piperine, a natural ingredient from black pepper fruits, hold an abundance of bioactive compounds, antioxidants and anti-
inflammatory properties that may improve blood sugar control, brain and gut health.
Proprietary Blend, holds a mixture of natural ingredients that have been proven to increase sexual desire, blood circulation, enhance libido and improve energy levels.
Dosage:
As a dietary supplement, take two capsules daily with water.
Disclaimer:
If under a physician's care, or taking medication, consult your healthcare professional before using this product.  Importantly, if you are pregnant or nursing, or have a known medical condition, do not use without consulting a physician.