Shroomz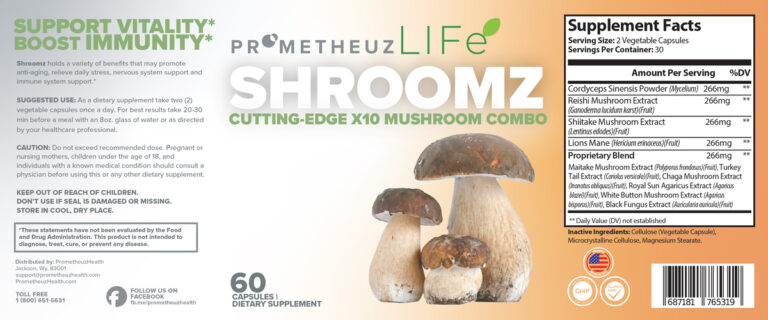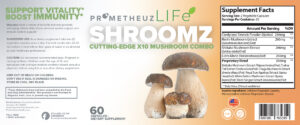 Shroomz capsules hold five different types of mushrooms, each holding their own health benefits. The Prometheuz Health cutting edge mushroom combo may promote anti-aging, relieve daily stress, improve nervous system support and increase overall vitality.
Description:
The concoction of five different mushrooms, encased into one capsule, is designed to help promote cognitive function and proper development of nerve functions, improve kidney and liver functions by decreasing inflammation, control blood pressure and improve immunity. Increasing overall vitality, Shroomz will allow you to go about your everyday life, feeling healthy and strong.
Ingredient Benefits:
Lion's Mane mushrooms are rich in beta-glucans, which help reduce the chances of tumors. Lion's Mane also helps promote cognitive function and also helps with the development and functions of nerves.
Cordyceps Sinensis is a mushroom/fungus mostly found in china in its high mountains. It helps in reducing asthma symptoms in adults, improving kidney functions and helps in reducing inflammation in the liver.
Shiitake mushroom powder is an antiaging agent that also helps control blood pressure and diabetes.
Maitake mushrooms help lower blood pressure and increase vitality.
Reishi mushrooms are antioxidants that have the ability to fight infections and strengthen the body against heart disease and allergies.
Dosage:
As a dietary supplement take two capsules once a day. For best results take 20-30min before a meal with an 8oz. glass of water or as directed by your healthcare professional Pregnant or nursing mothers, children under the age of 18, and individuals with a known medical condition should consult a physician before using this or any other dietary supplement.
Disclaimer:
If under a physician's care, or taking medication, consult your healthcare professional before using this product.  Importantly, if you are pregnant or nursing, or have a known medical condition, do not use without consulting a physician.