Adreno – prostate support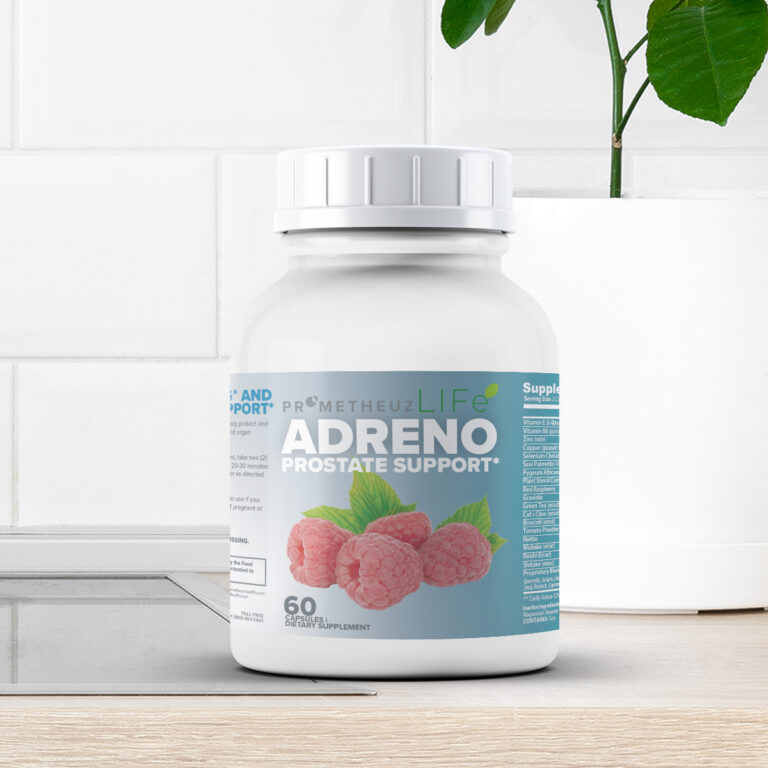 Adreno provides supportive nutrients to help protect and support prostate health, bladder control and organ function. Our Adreno capsules hold an abundance of vitamins, minerals and bioactive compounds that will help restore and rejuvenate prostate health.
Description:
Our rejuvenating and sustaining prostate capsules, Adreno, has been thoughtfully formulated to help support and increase prostate health and increase vitality. Providing the body with the right antioxidants and anti-inflammatory compounds, it will allow the prostate to be under less stress, allowing proper bodily functions to proceed.
Ingredient Benefits:
Vitamin E, found in some foods, is an essential vitamin the body needs to support a healthy immune system. Vitamin E also holds antioxidant and anti-inflammatory properties that benefit and promote a healthier skin complexion.
Vitamin B6 may improve mood and reduce symptoms of stress and depression. B6 also promotes brain health and can reduce the risk of Alzheimer's Disease.
Vitamin B6 helps the body produce serotonin, which helps regulate moods and eases stress. The production of melatonin is increased, helping your body to prepare for sleep.
Zinc, a nutrient in the body, helps strengthen the immune system, accelerates wound healing, may reduce the risk of age-related diseases and helps decrease inflammation.
Copper, holds many antioxidants and anti-inflammatory properties and is also known to fight prostate cancer cells and keep normal cells healthy
Selenium Chelate, a powerful anti-oxidant, reduces the risk of certain cancers, support thyroid health and heart health.
Saw Palmetto reduces estrogen levels and increases testosterone, ensuring proper function on the prostate gland.
Pygeum Africanum powder, bark from the Pygeum tree, is known to treat enlarged prostate and prostate cancer. It also hold anti-inflammatory properties and treats urinary problems. It can also increase libido.
Plant Sterol is known to help lower cholesterol and prevent heart attacks and strokes, it can also be taken to help prevent prostate cancer or other problems relating to the prostate.
Red raspberry, high in vitamins, minerals and antioxidants, these fruits may protect against certain cancers and other health conditions such as diabetes and obesity.
Graviola, a small evergreen tree, is commonly used to fight off infections and certain cancer cells.
Green Tea, contains bioactive compounds, that may support weight loss, boost metabolism, reduce inflammation and prevent cell damage.
Cats claw, a herb derived from a tropical vine, is said to help prevent or fight against viral infections, cancer, parasites and leaky bowel syndrome.
Broccoli contains a huge amount of vitamins and minerals with antioxidant properties.
Tomato Powder, high in antioxidants, help defend against certain cell damage and may decrease the risk of cancer and other health related problems.
Nettle, may reduce inflammation, lessen symptoms of hay fever and decrease blood sugar levels.
Shiitake mushroom powder is an antiaging agent that also helps control blood pressure and diabetes.
Maitake mushrooms help lower blood pressure and increase vitality.
Reishi mushrooms are antioxidants which have the ability to fight infections and strengthen the body
Proprietary Blend
Dosage:
As a dietary supplement, take two capsules once a day. For best results take 20-30 minutes before a meal with an 8oz. glass of water or as directed by your healthcare professional.
Disclaimer:
If under a physician's care, or taking medication, consult your healthcare professional before using this product.  Importantly, if you are pregnant or nursing, or have a known medical condition, do not use without consulting a physician.