Super Kidz Gummies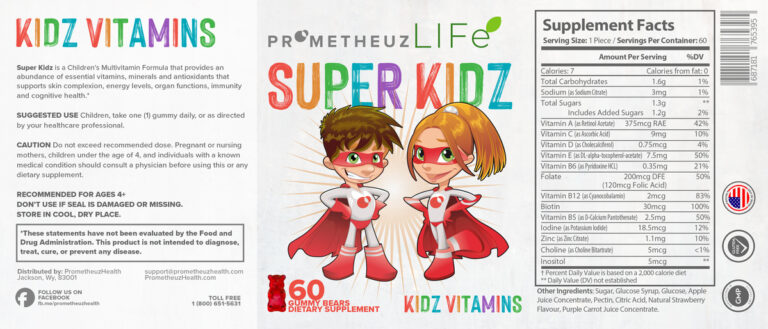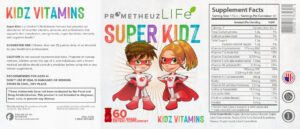 Super Kidz is a children's Multivitamin, for the ages 4+. Our kids multivitamin provides an abundance of essential vitamins, minerals and antioxidants that supports skin complexion, energy levels, organ function, immunity and cognitive health. Your kids overall vitality will increase, keeping them fit and strong. Allowing them to be any superhero they want to be!
Description:
Prometheuz Health Super Kidz gummies have been designed to refuel the body with the right nutrients and make it easier for your kids to fulfill their multivitamin requirements by having 1 gummy a day. They are high in antioxidants, anti-inflammatory and anti-again properties that will help promote proper functioning of cells and organs. Your kids will have a stronger immune system and an overall better vitality.
Ingredient Benefits:
Vitamin A helps strengthen the immune system by ensuring proper function for the heart, kidneys, lungs and other organs.
Vitamin B12 helps fight depression and improves mental health. It also gives the body energy and prevents anemia.
Vitamin B5 supports cellular growth while B6 helps against heart disease.
Vitamin C is an antioxidant that protects human cells from damage, strengthens the immune system and maintains healthy bones.
Vitamin D is naturally produced in the body in response to the sun and is also found in certain foods. It helps regulate calcium and phosphate in the body which help keep bones, teeth and muscles healthy.
Vitamin E, found in some foods, is an essential vitamin for the body that helps support a healthy immune system. It holds antioxidant and anti-inflammatory properties that benefit and promote healthier skin complexion.
Choline helps in the detoxification of the liver through fats and cholesterol.
Zinc helps improve the immunity of the lungs and helps in healing wounds faster and getting rid of ulcers.
Biotin manages sugar levels and may promote healthier skin and nails.
Iodine plays a huge role in breaking down fats and complex carbohydrates by maintaining a healthy metabolic rate.
Folate reduces the risk of heart disease and promotes the health and function of the brain.
Inositol is a member of the B complex family which promotes stronger and healthier hair. It also helps in lowering cholesterol levels.
Dosage:
Take two sugar-coated gummies once a day and make sure to check with your physician before using them.
Disclaimer:
If under a physician's care, or taking medication, consult your healthcare professional before using this product.  Importantly, if you are pregnant or nursing, or have a known medical condition, do not use without consulting a physician.