Slim Pills PM – Nighttime Insulin Mimetic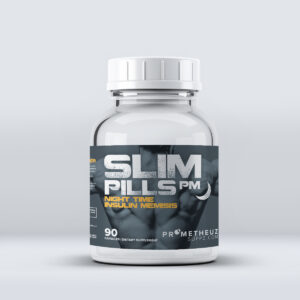 Slim Pills PM, taken at night may promote weight loss and increase muscle mass by converting carb to muscle while you sleep. In other words you are loosing weight while you sleep!! Insulin sensitivity is maintained, promoting muscle growth and faster recovery.
Description:
Prometheuz Health Slim Pills PM, a night time insulin mimetic formula, is designed to unlock the metabolic master switch, controlling and prompting fat cells to burn fat. It also holds other antioxidant properties, helping the body improve insulin sensitivity, reduce inflammation and improve nerve functions, whilst supporting heart and liver functions.
Ingredient Benefits:
Chromium, a mineral, improves insulin sensitivity and may also reduce hunger and cravings.
Berberine HCL, is a compound that affects the body at a molecular level. It is shown to cause weight loss, lower blood sugar and improve heart health. Berberine is a chemical found in a variety of plants and was often used in Chinese medicine.
Cinnamon Extract, is loaded with antioxidants that are known to improve sensitivity to insulin, reduce inflammation and improve nerve functions. Cinnamon also has a powerful anti-diabetic effect that may lower blood sugar levels.
Alpha Lipoic Acid feeds energy to organs in the body and also holds many antioxidant properties which may reduce inflammation, improve skin aging and nerve function.
Fenugreek, a herb, has multiple health benefits that may lower blood sugar, increase testosterone levels, lower inflammation and control appetite.
Kaempferol, is a naturally occurring compound and antioxidant derived from many fruits and vegetables, that may reduce the risk of chronic diseases and fights against free radicals in the body. ­Kaempferol may also enhance insulin sensitivity and carbohydrate metabolic enzymes.
Myricetin, a plant derived flavonoid (naturally occurring in plants) has strong antioxidant, anti-cancer, anti-diabetic and anti-inflammatory properties.
Dosage:
Adults, take three (3) capsules before bed, or as directed by your healthcare professional.
Disclaimer:
If under a physician's care, or taking medication, consult your healthcare professional before using this product.  Importantly, if you are pregnant or nursing, or have a known medical condition, do not use without consulting a physician.